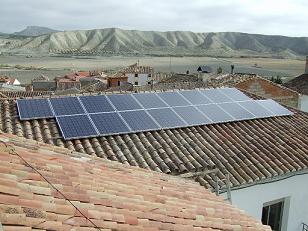 The installation of integrated solar panels in public centres in municipalities in the province of Granada has begun.
The Granada Provincial Energy Agency is carrying out the NEURENER Programme (Photovoltaic Solar Energy Network), which consists of the installation of 3 kW photovoltaic solar energy panels connected to the grid in public buildings.
This action is innovative and at the same time exemplary, and is considered to be in the public interest as this concrete measure produces renewable energy for the municipal services.
Work has begun in 10 municipalities in the province, mainly schools, in Alhama de Granada the Cervantes School Centre, the Town Hall of Alicún de Ortega, the Andalucía Public School in Benalúa, the School Group in Calahorra, in Cuevas del Campo and Jun School Centres, the Local Police Station in Maracena, in two Public Schools in Nívar and Zafarraya and Montejícar in the Food Market Building and the Doctor's Office.
These installations will not only reduce the local government's consumption of fossil fuels, but will also serve as a small source of funding for the local government's own schools where the installation is located, as well as educating and illustrating the economic and environmental benefits of solar energy generation in buildings.