There is the need to take an active stance in favor of renewable energy and energy savings through the implementation of daily activities.
It is shown that even adopting the best technologies, humans can miss the benefits of them without knowing the implications of their use and the impacts we can produce. Documentation speaks about "rebound" effect, although there are many other similar effects as the misuse of passive facilities of a building, etc… Therefore improving education and information of the population is vital.
Citizens should be aware and initiative to improve the way we do things. Only from this social awareness can then articulate a change in the energy model.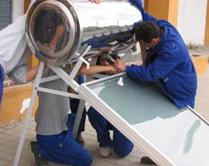 It is also unthinkable to get any society challenge as a whole with no information, and if we do not support the productive level of our region. Therefore, it is also very important to provide information to companies working in the sector and generate local employment, as well as administrations must make decisions in energy policy.
Thus, the main activities of the Provincial Energy Agency are the awareness of the current use our energy and environmental impact has the current energy system, and to promote responsible behavior in the energy consumption.
In addition to the dissemination of information on the sector, we promote opportunities for achieving energy savings and implementation of renewable energy sources, to serve as an instrument of improving environmental quality.
To promote greater knowledge and greater awareness, this section lists the various publications developed by the Provincial Energy Agency, the information is available at http://issuu.com/agenciaenergiagranada
You can also view each publication directly at: