DO YOU DARE TO COMPETE WITH CITIZENS OF ALL THE PROVINCES OF GRANADAY VECINOS OF YOUR MUNICIPALITY, BEING ABLE TO IMPROVE MORE THAN 9% OF YOUR ENERGY ALONE WITH CHANGE OF HABITS?
Try it! Save energy and money by participating in the Neighbours for Climate project.
In the province of Granada, 36 municipalities have joined the initiative and have actively campaigned among their residents to participate in the campaign.
If you are not a resident of these municipalities and would like to participate unofficially at any time of the year, please call the Provincial Energy Agency on 958281551 to find out how you can do this in the province of Granada even if you are not entering the competition directly. If you are a resident of any of these municipalities you can enter the "Vecinos por el Clima" competition to save more than 9% of energy (and consequently save money) by changing your habits between 1st December 2015 and 31st March 2016.
By participating in the project you will receive a weekly newsletter with energy saving tips to apply in your home, as well as direct assistance from your group Energy Advisor, who in turn will have the support of your municipality and the provincial Energy Agency of Granada. If you want to save energy, now is the time to take advantage of the resources that this project offers you and work for 4 months on your habits and those of your family.
If you want to participate in Neighbours for Climate officially, the registration deadline is 7 December 2015, and you must have your electricity/natural gas meter read between 1 and 7 December (this information is essential to be able to participate in the competition, the closer to 1 December the better).
See the information brochure here.
Download the participant handbook here.
Come and join us, call us at:
958 28 15 51
Or register before 7 December using the following form: http://goo.gl/forms/5m0XUXAYGi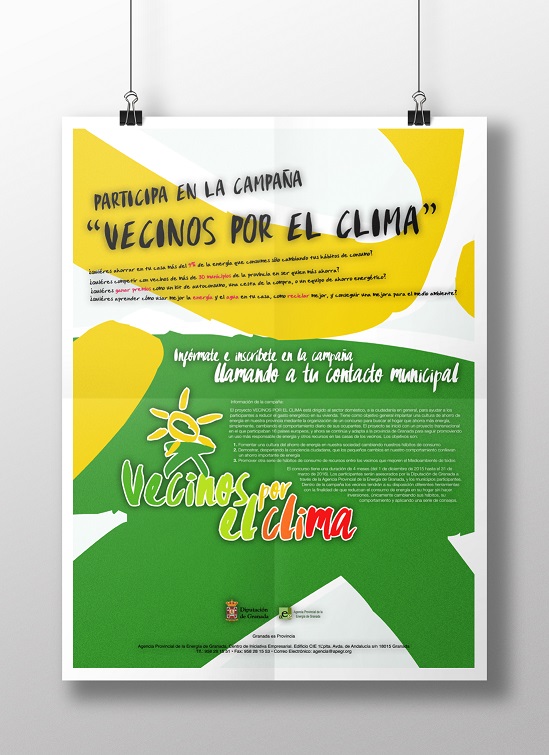 Previous editions have achieved energy savings of 38%, and average savings of around 15%. Check out the comments of several participants from previous editions.:
"We have replaced all conventional light bulbs with energy saving lamps, we have detected all stand-by appliances and we have become more conscious about our energy consumption in general. We didn't have to change our lifestyle, it is the small measures that really make the savings."
Quote from the Energy Advisor of the winning Swedish team.

"I thought our new energy consumption habits would not last – bad habits are hard to avoid! However, the monitoring period was long enough to change our behaviour, getting us to act automatically and sustainably. For example, I now immediately turn off the dishwasher, just as I close the door when I leave the house … I'm used to it! I'm used to it! The importance of energy saving has extended to other appliances, not just light bulbs! We had to buy a tumble dryer, but we decided to wait a little longer and save enough money to buy a class A appliance. Small energy saving actions have led to constant and sustained savings!"
Quote from an Italian Energy Advisor.
HOW DOES IT WORK?
Vecinos por el Clima is a competition in which you take part in teams to fight climate change. Encourage your friends, neighbours or work colleagues to form a group with you. It is important that the group consists of people who are in regular contact with each other.
How the competition works
The competition is run in teams of a minimum of 5 and a maximum of 12 people, which are called Energy Neighbourhoods. Each Energy Neighbourhood will appoint one of its members to be the Energy Advisor, who will be the representative of the group.
The aim is to save energy at home between 1 December and 31 March. That is why there is a website for entering consumption readings. The Energy Advisor will be in charge of entering the reference consumption data and the current consumption data of each member of your Energy Neighbourhood on the website. Monthly reports will be issued on the basis of the readings entered, indicating the savings achieved by the group. The Neighbourhood with the highest savings wins.
In order to make savings, all members of the Neighbourhood will receive tips and best practices and each group will receive an energy consumption manager that includes tools to help them save energy.
Reference consumption
This is the consumption before the competition. It is used to compare with the current consumption and to calculate the saving percentage. It is obtained from the energy bills.
Current consumption
This is the consumption during the competition. It is obtained by reading the meter.
The awards
The prizes for the competition will depend on the companies sponsoring the competition.
How to participate
1-. Register before 7 December using the following form: http://goo.gl/forms/5m0XUXAYGi
2-. Please enter the basic consumption data for your household before 7 December using the following form.: http://goo.gl/forms/tAEiiFU0X0
3-. Perform your energy self-audit and learn where you need to start saving by filling in the form below.: http://goo.gl/forms/mXoCxN41t4
4-. Start applying savings guidelines in your home, and enter last year's and this year's consumption readings here: http://goo.gl/forms/rsnxY4oayI. If you do not know how to do this, there is a user manual on the website and you can always contact your energy advisor.
Join Vecinos por el Clima – Save and win!