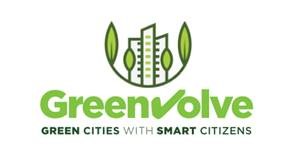 GREENVOLVE – ERASMUS+ PROJECT
Green territories with smart citizens
We defined the two fields that establish the basis of Greenvolve project as TWO PILLARS: (1) GREEN CITY ELEMENTS, (2) PUBLIC CONSULTATIONS and other form of civic engagement. We would like to empower 18-65-year-old citizens in these fields in order to be able to shape urban design efficiently and improve their awareness on how to act responsibly in participatory decision-making which can affect them directly. Aware and open-minded citizens can be involved successfully in urban decision-making and, thus, contribute to their own greener, cleaner and healthier environment, neighbourhood and city.
Thus, we believe that WE CAN ONLY HAVE GREEN CITIES WITH SMART CITIZENS. Our objective is to prepare citizens to be able to take part in any form of citizen engagement focusing on questions related to a GREENER CITY. On one hand, we would like to create VISUALIZED ADULT LEARNING MATERIALS ON the so-called "GREEN CITY ELEMENTS" which cover all the important issues that can occur in urban development: sustainable, smart and innovative solutions in the different urban systems with impact on climate, environment, biodiversity and the health and well-being of the citizens. Our goal is to share a background knowledge for any GREEN URBAN DECISION-MAKING, so citizens can overview the causal links among the elements, their contribution to the urban systems, their possible spillover effects and the reference to their total economic value.
On the other hand, we would like to enforce the citizens' personal skills to be able to participate in different type of public consultations by creating an ADULT EDUCATION TOOLKIT which helps understand the main principles of such citizen involvement. We would like to create a quite universal toolkit focusing on GREEN CITY-RELATED CITIZEN ENGAGEMENTS which is easy-to-use and understand, and can reach the whole group of targets without excluding anybody for example due to the differences in the level of digital literacy. In order to support the first two project results, we indent to build up a collection of good practices related to both pillars: GREEN CITY ELEMENTS AND PUBLIC CONSULTATIONS.
In contrast to other available best practice collections, we would like to provide an opportunity to have both DATABASES at hand on the Greenvolve platform. This kind of complex collection can support not only the understanding of the solutions but also the overall negative impacts of climate change and other phenomenon. In order to incorporate the developed knowledge on green city and active citizenship comprehensively, the partnership will create an ONLINE LEARNING PLATFORM to support the target audience's better understanding. Users will be able to test themselves interactively in topics connected to public consultations in green issues. These project results are not simply awareness-raising materials: the collected green city knowledge will be complemented by guidance for active citizenship.
We would like to give opportunity to our target group to strengthen their CRITICAL THINKING and personal competences, and this way, FOSTER their COMMITMENT AND PARTICIPATION IN GREEN URBAN ISSUES. We offer non-formal learning activities and materials for open-minded adults who would like to take part in civic engagement and, therefore, affect directly their environment and, eventually, their well-being. Greenvolve will also help understand and promote the European Union's objectives and values related to environment, climate and energy.
ACTIVE CITIZENS CAN CONTRIBUTE TO ADDRESSING CLIMATE CHANGE and protecting environment BY EXPRESSING THEIR DEMAND FOR GREEN CITY SOLUTIONS TO URGE CLIMATE MITIGATION AND ADAPTATION measures in case of each investment around them. Public consultations are valuable sources for policymakers as they can collect direct information, concerns and ideas from the public. Participation can also lead to behaviour change and, therefore, a more sustainable lifestyle.

TARGET GROUPS:
Participation of the active citizenship between 18 and 65 years old.
More information about the project in its official website: https://greenvolve-project.eu/
Law7/2017, 27th december, of Citizen Participation in Andalusia: https://www.boe.es/boe/dias/2018/02/06/pdfs/BOE-A-2018-1548.pdf