SCIENCE MEET REGIONS GRANADA PROJECT
Local policies with science
The increasing complexity of today's societies demands that its citizens, through public administrations, and in relation to other territorial actors, face the great challenges of our time by applying new perspectives and methodologies. With this idea at the center and in order to relate the different social sectors, Impronta Granada was born.
This project, promoted by the Diputación de Granada by obtaining funding from the European program Science Meet Regions, and coordinated by the University of Granada, seeks to design a multilevel and multiactor knowledge transfer model from the university to the territory , through its local entities and other administrative forms, to address the great challenges of the province, within the framework of the 2030 Agenda. The University will act as facilitating institution and as knowledge generating actor.
In the framework of the project, we announce the first participatory action, some innovation laboratories that will be carried out under the title of Innovation Laboratories – Current territorial challenges: climate change, depopulation and economy. The meeting will take place in different collaborative work sessions between different academic and social actors.
For more information about the initiative, any person or entity can find out through the following link: https://granadaenergia.es/noticias/agencia/impronta-granada-laboratorios-cambio-climatico/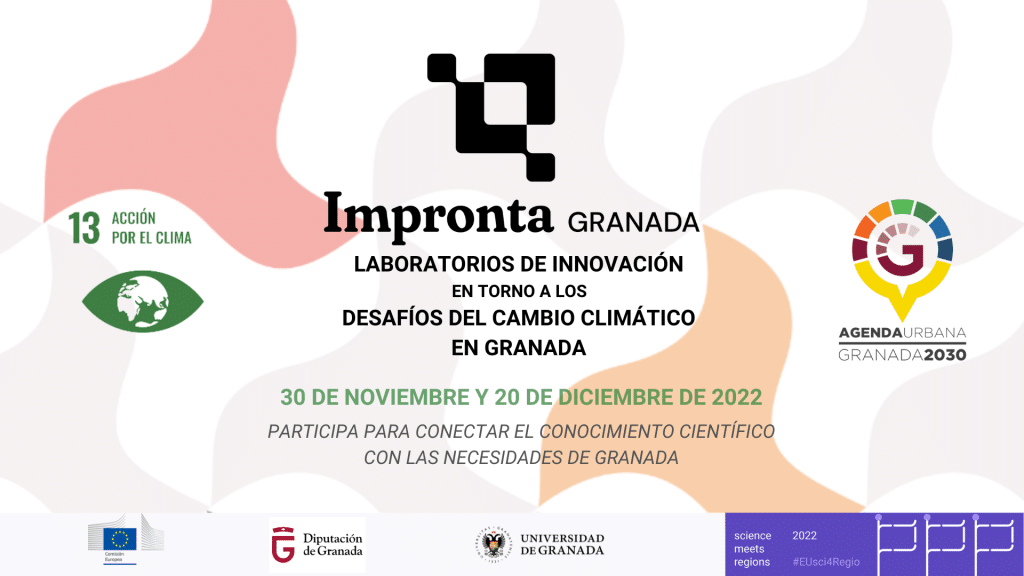 You can follow the news of the initiative on his Twitter channel: https://twitter.com/ImprontaGranada
More information about the European program at the SMR HUB: https://ec.europa.eu/jrc/en/science-meets-regions/events